Today's post was inspired by a family trip to Walt Disney World last summer, a place where the word "dreams" is a kind of
idée fixe
. Here are some examples associated with Disney:
The Disney Dreamers Academy ("We help unlock the potential in young people and enable them to imagine their futures anew through inspirational leaders who show how to set goals, make plans and dream big"),
A Dreams Come True parade, which in a previous iteration was called…
Walt Disney's Parade of Dreams, whose eight floats included Getaway to Dreams, Dream of Enchantment, Dream of Laughter, Dream of Another World, Dream of Imagination, Dream of Adventure, and Dreams Come True,
The Dream Along With Mickey show,
One Man's Dream (a pavilion celebrating the life of Walt Disney),
Many promotions, such as the Year of a Million Dreams, which included Disney Dreams Giveaways (my boys and I were randomly given Mickey skullcaps with plastic ears one day),
Many commercials that use the word "dream," and
The Disney Dream (cruise ship).
Disney marketers and
imagineers
clearly believe that the public is attracted by the
idea
of following our dream, but what are the risks and rewards of doing so, and, in particular, of daring to dream "big" dreams?
---
There is much encouragement to fearlessly follow our dreams in songs, movies, biographies, interviews, etc. — wildly successful people are often said to have done so — but what about people whose life experiences have been more like those of
Wile E. Coyote
(see below; a lifetime of frustration, aided largely by his misplaced faith in faulty products found in the
Acme Co.
catalog, followed by the cancellation of
his show
) or Charlie Brown (who, according to
Wikipedia's rather harsh description
, "fails in almost everything he does"), than Walt Disney's or Bill Gates'? Don't big dreams lead to big disappointments?
An ill-conceived plan; this will not end well.
For Wile E. Coyote, they never do.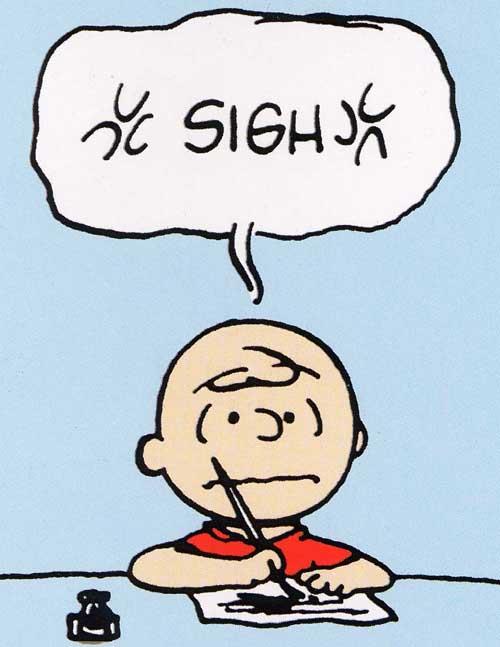 For Charlie Brown, life can sometimes feel like an endless series of disappointments.
Well, for me the answer is obvious: Big dreams
can
lead to big disappointments, but that doesn't mean we should not have them.
Just to be clear, by "dreams," I mean
aspirations
or
goals
, as opposed to the reveries we all have during REM state while sleeping, which we often don't remember. And by "big," I mean lofty aspirations, such as wanting to become ridiculously rich, wanting to be the King of Iceland (bad news: Iceland's monarchy ended in 1944, but who knows, maybe they'll bring it back for you!), or wanting to become a great composer, and recognized as such.
---
Walt Disney supposedly said,

All our dreams can come true, if we have the courage to pursue them

, and

if you can dream it, you can do it

.

(These quotes are frequently attributed to Disney on the Internet and are found in

How to Be Like Walt; Capturing the Magic Every Day of Your Life

(2004) by Pat Williams. However, I have yet to find when, where, and in what context these statements were made, making me wonder if he

actually

said them, or if an awful lot of Disneyphiles

wish

he had said them.)

As mentioned above,

daring to follow your dreams

is promoted as a core belief at Disney theme parks and in many Disney movies. This advice is summed up nicely in the following song, by Leigh Harline and Ned Washington, from Walt Disney's 1940 adaptation of

Pinocchio

.
When you wish upon a star
Makes no difference who you are
Anything your heart desires
Will come to you
If your heart is in your dream
No request is too extreme
When you wish upon a star
As dreamers do
Fate is kind
She brings to those who love
The sweet fulfillment of
Their secret longing
Like a bolt out of the blue
Fate steps in and sees you through
When you wish upon a star
Your dreams come true
Of course, it's not just the Walt Disney Corporation that promotes this belief/marketing strategy; many others have expressed similar sentiments:
The future belongs to those who believe in the beauty of their dreams.
• Eleanor Roosevelt
Every great dream begins with a dreamer. Always remember, you have within you the strength, the patience, and the passion to reach for the stars to change the world.
• Harriet Tubman
If one advances confidently in the direction of his dreams, and endeavours to live the life which he has imagined, he will meet with a success unexpected in common hours.
• Henry David Thoreau
---
But before we all quit our day-jobs and head off to Hollywood, we need to ask ourselves whether it
is wise to dream big.
Here are some quotes that may give you pause:
A dreamer is one who can only find his way by moonlight, and his punishment is that he sees the dawn before the rest of the world.
• Oscar Wilde
A man is not old until regrets take the place of dreams.
•John Barrymore
He was a dreamer, a thinker, a speculative philosopher... or, as his wife would have it, an idiot.
• Douglas Adams
Dreams will get you nowhere, a good kick in the pants will take you a long way.


• Baltasar Gracian
Take everything easy and quit dreaming and brooding and you will be well guarded from a thousand evils.


• Amy Lowell
When younger writers and poets, musicians and painters are weakened by a stemming of funds, they come to me saddened, not as full of dreams and excitement and ideas. I am then weakened and diminished, and made less rich.


• Maya Angelou
It does not do to dwell on dreams and forget to live.


• J. K. Rowling
The last four quotes above (
highlighted
) are particularly sobering; they articulate the dilemma with which we all must wrestle:
While it is probably true that many or even most great things could not have been achieved without big dreams, it is also true that most dreams do not come to fruition, and indeed, the loftier the dream, the lower the likelihood of its coming to pass, and the greater the potential disappointment.
---
There have been at least ten different songs — as well as a television series, a film, a painting, and a book — with the title, "Boulevard of Broken Dreams
."
Broken dreams — dashed hopes — is cleary a concept that resonates for many people, just as the more hopeful Disney quotations above
also
resonate for many, presumably because we all have had aspirations of varying magnitudes during the course of our lives, but we have all experienced deep disappointments along the way as well; we have all felt both optimism and dismay at different times.
We must all learn to navigate between chasing lofty dreams and pragmatism, but my advice for all composers is to go ahead and dream as big as you wish, because you are unlikely to find much success without first dreaming of it.
However, greatness in composition does not result from luck, like winning a lottery; it is the product of years of hard work, critical thinking, thinking outside and inside boxes, a positive attitude in the face of rejections, and many other factors, some of which I have discussed in previous posts. Luck can certainly play a part as well, especially in terms of one's
success
as a composer — composers are sometimes "championed" by music directors and conductors, for example — but even in cases like these, you have to be good to be lucky, as the sports saying goes.
So, go ahead and dream big, but be prepared to put in a lot of hard work along the way. Be pragmatic at least some of the time, because we need to provide our basic needs (food, shelter, clothing), but be aware that
too much pragmatism can be a dream-killer
; a highly-pragmatic person might decide to abandon their dream in favour of a more "realistic"or achievable goal, and, while there's nothing inherently wrong with that, nobody would ever achieve their dream if we all felt this way.
Also, in case it is any consolation, failure to achieve one dream can lead to success in a different one.

Here's a chart that I had fun with (when I wasn't getting frustrated over the challenges of formatting this thing in HTML); the statements on the "pro" side (left column) are arguments in favour of pursuing one's dream, with counter-arguments represented on the right column. See which statements you agree with:
Some Pros and Cons of Dreaming Big Dreams

• Nothing great was ever achieved without enthusiasm (Ralph Waldo Emerson)

• Nothing great was ever achieved without first dreaming of it (me, paraphrasing Emerson)


• Dare to live the life you have dreamed for yourself. Go forward and make your dreams come true (Emerson)

• The greater our enthusiasm, the more catastrophic the pain we feel when something does not work out

• The greater the dream, the less likely it is to come true. Dream of small achievements, like finding a good parking spot, and you won't be too disappointed.

• You are unlikely to make your dreams come true unless you dream of small things, like finding a good parking spot, or beating the boss level in a video game.

• When you have a dream, and follow that dream, you will gain from the experience, no matter the outcome (me)

• Pain, disappointment, and frustration are all experiences from which we can learn (me)


• That which does not kill us makes us stronger (Neitzsche)






• Yeah, you'll gain pain, that's the only guaranteed outcome of following a dream!

• This is what I have learned from pain, disappointment, and frustration: I do not like them; therefore I choose a path that is likely to produce a negative result

• Neitzsche alienated many during his life, and became become "effectively unemployable… The subsequent "feelings of revenge and resentment" embittered him," (Wikipedia: Nietzsche) and he eventually went mad. This would seem to negate his statement in the left column.
• All our dreams can come true, if we have the courage to pursue them (Disney)
• This is self-evidently ridiculous, but in case you feel otherwise, here is why: Even if your dreams have no imagination whatsoever, like aspiring to find a good parking spot when you go shopping, there will be times when your dreams do not come true. You may have to park a long way from your favourite mall entrance during the Christmas rush. The store may be sold out of the item you really want. Your favourite restaurant may take your favourite dish off the menu. And if your dreams are loftier than this, there is a greater probability that at least some (and probably most) will not come true.
• Did Disney even say this, or is this something that the Disney Corporation wants you to believe while visiting their theme parks, presumably so that you will spend lots of money making sure your kids' dreams are not dashed?
•

We are all resilient

, to varying degrees. Yes, following a dream can lead to profound disappointment, and even leave us feeling crushed; however, we have it in us to bounce back and try again, possibly a little wiser from experiencing the setback

• Not only are we resilient,

we are adaptable

; if, after working at it for some time, we conclude that our dream is unattainable, we can re-think our dream and come up with another one. Frequently "dream B" (or dream "C," "D," "E," etc.) succeeds in a way that exceeds our wildest hopes for "dream A"
• Some people are more resilient than others. We all have a pain limit… If chasing a dream fails repeatedly, and the pain of it all becomes too much to bear, perhaps we should stop chasing that dream

• Well, if you conclude that "dream A" will not work out, or if you conclude that to continue pursuing it is resulting in more pain and frustration than you can bear, do you really want to open yourself up to more of the same by chasing "dream B," "C," and "D?"
• There is no path in life that is devoid of pain, frustration, and disappointment. Yes, following your dream can (and likely will) lead to negative experiences, but to think you can avoid them completely by following another path is foolish. So, if these are a given in life, why not experience them pursuing your dream, instead of following a "safer" path that you don't really want to be on?
• Some paths have a significantly-lower probability of success than others. If my dream is to become a huge Broadway star — the next Idina Menzel — and I find myself reduced to doing poorly-paying sporadic dinner theatre shows to bored audiences in suburbia twenty years from now, I don't think I would be very happy. There is a time to admit when your plans are not likely to lead to a positive outcome, and come up with more realistic plans
Conclusion: The decision of whether (and for how long) to follow your dream, or to modify your expectations and pursue something else is something with which all artists (and probably many other people too) struggle, and it is a decision we must all work out for ourselves.
• I actually agree with many of the points on either side of the above, "pros and cons" chart. I think it's good to have a dream, and to overcome any fears that may be preventing you from pursuing your dream.



• I also think it's important to be grounded in reality at least

some

of the time (acknowledging that different people have different realities), and to consider other options if option A is not working.




I have met successful business people who told me their dream had been to become a musician, but they abandoned it to go to business school when it became apparent to them that their dream was not panning out. The people I met didn't seem to regret their decision at all, presumably because they found success in another area of life, and I think this is fairly common.




But part of

my motivation in sticking with my dream of becoming a composer was the worry that if I didn't go after my dream I would regret it later in life. I don't know if I actually would have regretted it or not, of course — in retrospect, I think I might have been content in other pursuits as well — but I didn't want to become a bitter old man, regretting the things he didn't do in his life, so I stuck with my goal, despite frequent doubts as to the wisdom/practicality of this goal, and some significant, soul-crushing setbacks along the way. Luckily, things worked out, at least so far…
---